On January 8th, the 5th EBA Consortium Open Seminar was held as an online seminar with the topic Entrepreneurship Education. The EBA Consortium would like to thank all those who attend and supported.
The following universities attended the open seminar:
Universiti Sains Malaysia (USM) – Malaysia
University of the Philippines (UP) – Philippines
Chulalongkorn University (CU) – Thailand
Keio University (KEIO) – Japan with participation from 3 locations:

Keio Mita Campus
Keio Hiyoshi Campus
Keio SFC Campus

Brawijaya University (Winner of SOI Contest)

Opening and Greetings
Prof. Jun Murai opened the 5th EBA Open Seminar. Prof. Jun Murai mentioned that new curriculum from Keio in 2014 will start in April and that it is a very good chance to adjust EBA program in order to facilitate new EBA students coming to Keio University.
Prof. Jun Murai also mentioned that generation of idea from the 5th Open Seminar is very important, because the main topic is about entrepreneurship. After the short opening comments, He then passed the authority to Prof. Masaki Umejima to officially begin the 1st session.
Session 1 – INDUSTRY-ACADEMIC LIAISON
This session discussed about what is ideal on industry academic collaboration. There were 2 speakers in this session:
Mr. Tsuyoshi Kitani (Head of R&D Headquarters, NTT Data Corporation)
Prof. Sureswaran Ramadas (University Sains Malaysia, Malaysia)
Session 1-1 – Industry Academic Liaison in NTT Data by Mr. Tsuyoshi Kitani, Head of R&D Headquarters, NTT Data Corporation
This 1st part of the 1st session mainly talks about the introduction to industry and academic liaison activity of NTT Data Corporation. They have a long experience in shared and cloud banking. NTT Data activities includes in Vietnam, Indonesia and Thailand.
Currently, they are developing community cloud vision which can develop the IT system individually. Community cloud saves cost and helps building innovative ecosystem.
There are also smart community applications in a wide variety such as computing resource management using OpenStack/OpenFlow which is an open source program. OpenStack has object storage capability, which has the ability to sensor data and perform VM image template.
Currently, NTT Data have collaboration with USM in using OpenStack in Malaysia since 2012.
Internship program from Asian universities are also welcome:
Improve NTT DATA awareness
Familiarize Asian university students with Japanese environment
Recruit global excellent students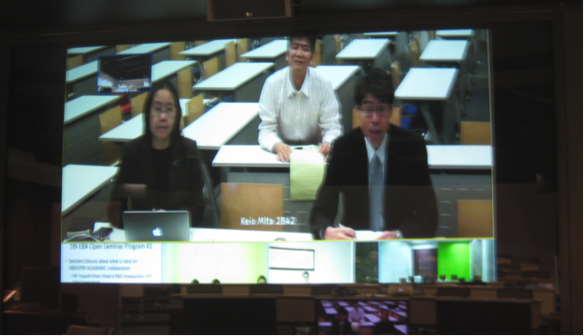 Session 1-2 – NAv6 EBA collaboration with Global ECHONET-Lite Consortium and NTT Data for OpenStack Cloud Computing by Prof. Sureswaran Ramadas, University Sains Malaysia, Malaysia
ECHONET is a method to remote control house appliances to reduce energy usage and you can also monitor the energy usage.
NAv6 is known for its research capabilities in the area of next generation Internet and has been entrusted by NTT DATA Japan to carry out joint R&D activities on OpenStack platform
Results from the studies have been published and being published
A few PhD students are working on various topics involving OpenStack
Seminars have been given at university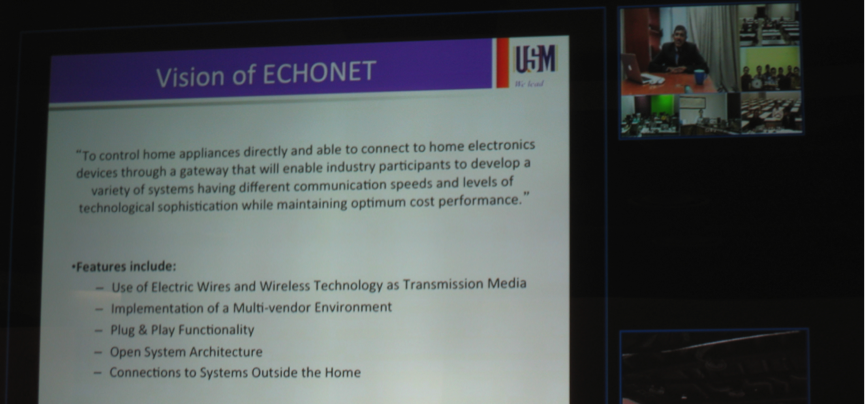 End of Session 1
The idea of supporting open source is a good idea and cost and flexibility of the open source are an advantage. It is a good policy that is backed by the government. Educating student is important issue, but bringing private and government sector is an important issue too.
By using Open Source program, the developer can still take in charge and the end user can also make sure the program does not contain spyware or anything of the sorts so security should be better. It's not a freeware but open software so you can get the source code to take a look at it and even edit it to suits the needs. Open source is important for entrepreneurship.
Session 2 – ENTREPRENEURIAL EDUCATION AND SUPPORTIVE ACTIVITIES
There were 4 speakers in this session:
Prof. Dechanuchit Katanyutaveetip (Chulalongkorn University, Thailand)
Prof. Luis Sison (University of the Philippines Diliman, Philippines)
Mr. Goi Hoe Chin (SOI Asia Business Plan Contest Organizer, SOI Asia)
Ms. Supanuch Supanimittrakul (Internship organizer, SOI Asia)
SOI Asia is an Asian-wide university network that connects 28 universities in 14 countries via broadband Internet. It has provided a distant education platform to share a lecture, host a business plan contest, and deliver internship. In that sense, lecture share by Keio and Chula since 2008 has reached a lot of things. Added on the above SOI Asia experience, this session will highlight some outstanding showcases, presented by EBA faculty members.
Session 2-1 – Entrepreneurship opportunities in Thailand by Prof. Dechanuchit Katanyutaveetip, Chulalongkorn University, Thailand
Opportunities for entrepreneurship in Thailand includes in hotel, tourism, medical and MICE which is an exhibition of conference.
It was also mentioned that traffic is one problem in Thailand, it would nice to have a transportation system like the Japanese railway. Political situation is also a problem but the good news is there is no violence on the street.
European economy crisis gave us a lot of opportunities, which starts ASEAN Economic Community (AEC), which is an agreement of 10 countries in ASEAN with the goal of regional economic integration in 2015.
Threats to start entrepreneurship in Thailand include natural disasters and government instability.
Concerns raised by Prof. Dechanuchit regarding Entrepreneurship:
Can entrepreneurship be taught? We can teach them 30% of the process but the other 70% are from their own.
Who are the correct people whom are able to perform entrepreneurship and what is the measurement of success? The team of entrepreneurs should be ready with business plan and competition in the field.
With those concerns at hand, what would the university provide? In Chulalongkorn University, they provide Chulalongkorn University Intellectual Property Institute (CUIPI), which helps in research, licensing and start up of entrepreneurship.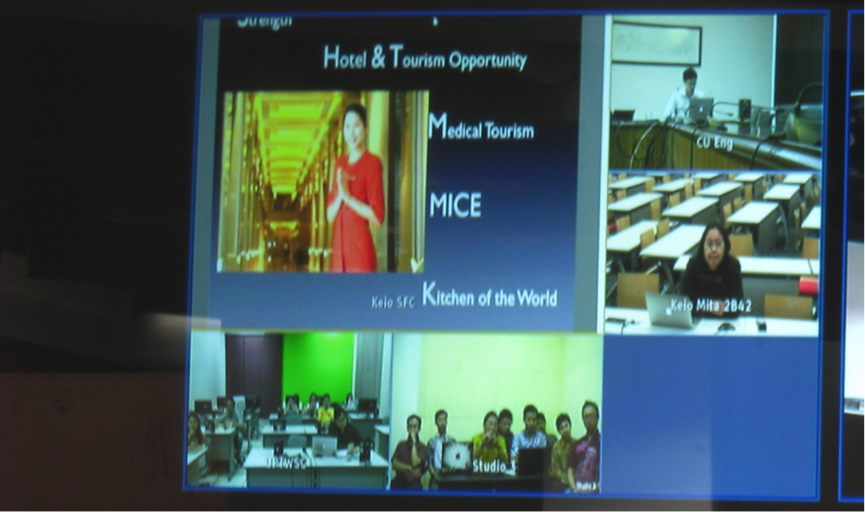 Session 2-2 – New Enterprise Program by Prof. Luis Sison, University of the Philippines Diliman, Philippines
This session was cancelled because Prof. Luis Sison could not attend the Open Seminar. The talk was supposedly about a new program started by the university.
Session 2-3 – SOI Asia Business Plan Contest by Mr. Goi Hoe Chin, SOI Asia Business Plan Contest Organizer, SOI Asia
The contest is hosted by SOI Asia business platform and supported by SOI Asia universities, which has started since 2008.
We look at the entrepreneur, business model, finance plan and extra point. This contest is held parallel with the management for emerging market and there's also a contest workshop.
The incentive to the winner is a ticket and accommodation to visit one of SOI Asia partner universities. Finalist will get certificate of participation andA ll participants will get an evaluation opportunity for business plan and be judged by prominent judges, which can be used for resume for future internship opportunity.
Special interview for 2013 winner from Brawijaya University
Everyone can make a business plan but not every plan is a good business plan.
One team, one spirit, one goal
We can complete all the business by giving the problem to the specialist we have in the team.
First, make a business plan. Then we want to know how applicable our business plan is. After that, we have a short and long goal. We need to be able to help each other.
From the university, they gave support to the team by motivating them so they can work optimal.
There are 3 important needs: Need of achievement, need of power and need of affiliation.
Entrepreneur has to inspire. Without inspiration, there is no entrepreneur.
They have to have a feeling to help the other
Communication in the team is also important
Learning together is the best solution to solve global issues.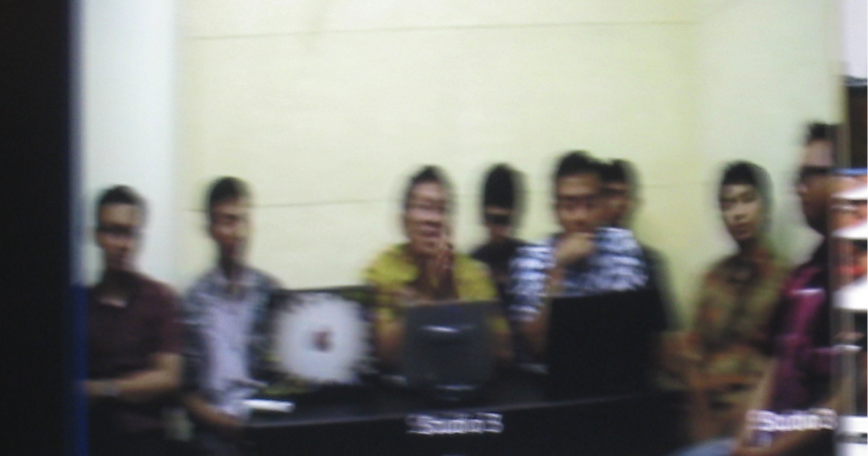 Session 2-4 – SOI Asia Internship Program (SAIP) by Ms. Supanuch Supanimittrakul (Internship organizer, SOI Asia)
Goal of internship: matching top performance students with the cutting edge company for job opportunity.
Benefits of internship:
For Students: career exploration, hands-on experience, profile enhancements, budget for flight and accommodation
For University: open access of international career, bridge the gap between academic and real world
For Company: Access to global talented workforce, evaluate performance of students, get local information on Asia
There is also Virtual Internship:
Experiential internship (experience is important than money)
Short term
Independence
IT and Internet utilization
End of Session 2
Closing
More information can be found by watching the video presentations.
The next open seminar will be held February 5th 2014 with the topic "Disaster Management"