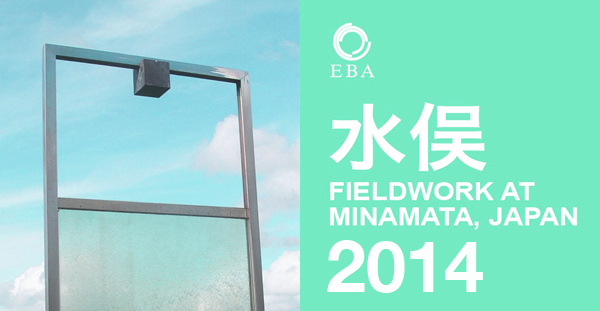 The fieldwork program in Minamata, Japan in 2013 was a great success with the participation of 21 undergraduate students, 9 from Japan and 12 from partner universities in ASEAN including Vietnam, Thailand, Malaysia, Indonesia, the Philippines and Japan. During the one-week trip, the students were given a special opportunity to enjoy hands-on experience while observing and examining the local issues at the site of Minamata, to join minds and hands in groups and to articulate on the issues by making use of the collected data and observations at the field.
To make this opportunity reachable to a larger number of students inside and outside Japan, Keio University now resumes the fieldtrip program in August 2014. This program is open for EBA Consortium member universities.
About the program
In a similar manner with the program in 2013, the Fieldwork Program 2014 includes a workshop and fieldwork related activities. Participants will learn basic methods and "Evidence Based Approach" at the workshop, before the fieldwork starts. After the workshop, participants will visit Minamata city to learn the overview of issues from specialists, visiting the factory and work place for the victims and other related facilities in order to collecting evidences throughout intensive observations and interactions with local residents. Based on the evidences, participants will have a group work discussion. Each group should include both Japanese and ASEAN students. Participants will receive a credit from the EBA Consortium on the completion of the program.
What's Minamata
Minamata city is located in Kyushu island, southern part of Japan. The city is known for Minamata disease which is caused by mercury pollution from a chemical factory in 1950's. It is the first disease caused by food chain due to environmental pollution.
Language Requirement
All Lectures will be provided in both English and Japanese. No Japanese skill is required. Participants should be at least able to carry conversations in English.
Target and Capacity
This program is for both undergraduate and graduate students. The expected number of recruited students is 24 including 12 from ASEAN countries and 12 from Japan
Schedule (subject to changes)
August 1 (Fri.) – Arrive in Japan
August 2 (Sat.) – Japanese Class and EBA Workshop in Keio Hiyoshi Campus
August 3 (Sun.) – Japanese Class and EBA Workshop in Keio Hiyoshi Campus
August 4 (Mon.) ~ 7 (Thu.) – Minamata Fieldwork
August 8 (Fri.) – Prepare publication (web) & Tokyo Fieldwork
August 9 (Sat.) – Social Exchange: Asian Night
August 10 (Sun.) – Leave Japan
Cost and Support
The EBA consortium will bear the cost of International airfare, domestic transportation within Japan and accommodation during the stay in Japan. Please note that travel insurance and food expenses are not included.
Contact
For further information about this, please contact your local EBA representative (see list here) or email us at 

info[at]eba-consortium.asia

 .
———————
For students from UNIVERSITY OF THE PHILIPPINES DILIMAN
The participant must be a student enrolled (during the time of fieldwork) at the UP Diliman College of Engineering and UP Diliman College of Science (preferably with Environmental Engineering or Environmental Science background and with basic Nihongo language skills). If two participants will be supported, one student from CoE and one student from CS will be nominated for travel support.
So far, we do not know how many participants from the Philippines will be supported by the EBA Consortium. Participants on a self-support basis are always welcome.
Interested participants may submit a letter of intention to participate and an essay how will this fieldwork be of use to you. For example, last year, EBA supported one student from the College of Engineering and she is now working on mercury intake from various exposures at small scale mining sites.
Deadline for the submission of letter of intent to participate and essay is on June 3, 2014 Tuesday at the ERDT Office MH 201, Melchor Hall College of Engineering.
——————-
For information about Minamata Fieldwork program 2013 held last year, check this page or the live report in our Facebook account (https://www.facebook.com/EBAConsortium)