Information Session announces EBA Internship Program on SOI Asia Platform at Chulalongkorn University (Bangkok, Thailand)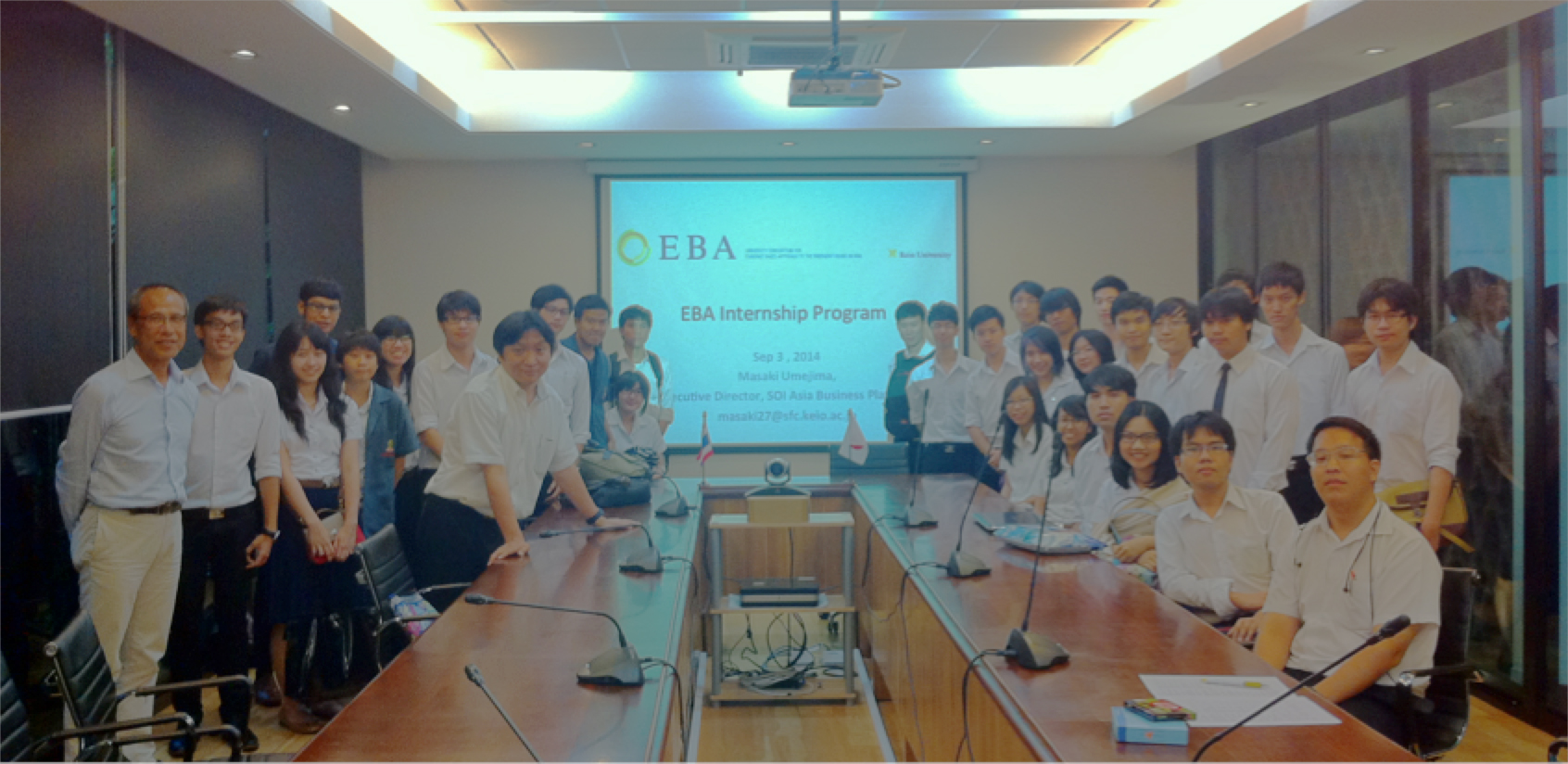 On 3 September 2014, EBA consortium announced the EBA internship program in 2014-2015 and had a student meeting, invited Japanese company in Chulalongkorn University (Bangkok, Thailand). This event was hosted by Manoj Lohatepanont in Chulalongkorn and Masaki Umejima in Keio University and organized by Supanuch Supanimittrakul as EBA internship coordinator. 26 undergraduate students from Computer Engineering and Computer Science department joined this interaction and discuss about the following agendas;
1) Overview of EBA consortium
2) Overview of EBA internship
EBA internship Program aims at matching "top performance" students with the "cutting-edge" companies for job opportunity.

Top performance means students have to pass 3 times evaluation; 1) profile screening and faculty recommendation, 2) virtual internship performance evaluation, and 3) job interview.
Uniqueness of EBA internship which are

Virtual internship that students can gain work experience by completing assignment (such as application development and business plan), and weekly online communication with supervisor from Japanese company via videoconference, e-mail, and Skype.
Opportunity to communicate with top management
Job opportunity at headquarters of participating company in Japan if student complete EBA internship process and pass recruitment interview.
How to be successful in international internship
Internship process, activities, and tentative schedule

3) Guest Speech from participating companies
Weathernews Inc.

Weathernews is the world's largest private weather company is based in Japan with 29 offices in 15 countries including office in Jakarta, Indonesia. There are about 700 employees providing meteorological observation, data analyzing, and weather forecasting service for client worldwide.
Main contents of presentation on 2014/09/03 are:

Weathernews' Mission is to avoid and reduce disaster damage with 7 billion supporters
Services
Business to business service: voyage routing optimization, radar and satellite system for detecting various weather disaster (heavy rain, storm, tsunami, etc.)
Business to supporter (customer) service: Weather forecast mobile application (English version for worldwide user called Sunnycomb)