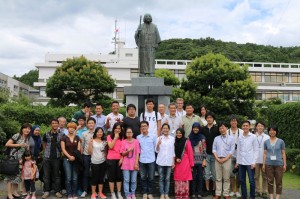 The fieldwork program in Minamata, Japan brought 22 students, 10 from Keio University (including students from China and Mongolia) and 12 from EBA partner ASEAN universities.
Before going to the fieldwork, participants attend preparatory sessions of lectures and workshops where they could learn more about basic skills about the "evidence based approach."
After this series of activities, participants went to the actual fieldwork. They visited Minamata city and learned the overview of the issues related to the Minamata disease meeting specialists, visiting the factory and the victims' workplace and other related facilities. They collected evidences throughout intensive observations and interactions with local residents.
After coming back from the field, participants attended a new series of workshops in which they created posters and videos based on the evidences they had collected. The outputs tell stories of Minamata (Health Environment) from each one's perspectives, helping to spread them to the world.
Over this one-week program, participants could get research skills, knowledge and a valuable experience from the fieldwork. In addition, all participants built up a relationship with the group, and still continue their communication after going back to their home countries.
These are posters participants created for Final Presentation, which have been post at Minamata City hall.
LEFT: Fenddy Kong (University Sains Malaysia), Le Hoang Phuong (Hanoi University of Science and Technology), Ganbold Enkhmunkh (Keio University), Yuto Sasaki (Keio University)
RIGHT: Alexis Bryan Rivera (University of the Philippines), Nungky Anandhyta (Institute of Technology Bandung), Eky Yenita Ristanti (Keio University), Tomoki Kondo (Keio University)
LEFT: Septian Johanka (Institute of Technology Bandung), Ploypailin Romphophak (Chulalongkorn University), Tatsuya Yamashita (Keio University), Dashdondog Gereltod (Keio University)
RIGHT: Norazira Binti Othman (University of Malaya), Apollo Agcaoili (University of the Phillippines), Yu Takeuchi (Keio University)
LEFT: Foo Shu Ping (University of Malaya), Nguyen Thi Thuy Linh (Hanoi University of Science and Technology), Reo Nakayama (Keio University)
RIGHT: Yong Kar Wei (University Sains Malaysia), Pakorn Sirijaratwong (Chulalongkorn University), Keiko Shigeta (Keio University), Pan Saiyi (Keio University)
Voice of the Participants
"I think that this program is an opportunity to learn on their own as well. So I can development and practice various skills. In addition, the professor and his team will guide and assist as much as I want."
Ploypailin Romphophak (Chulalongkorn University)
"I love to meet new people and get to know them. By Evidence Based Approach, I've got to meet even people with different backgrounds. I learned that I do need to improve my presentation skill so that I can show others what I witness. My aim is to be a sales engineer, delivering a good quality service and make customers trust in the product. I was taught from EBA how to sharpen my communication and presentation skills and hopefully it will help me with my future career."
Pakorn Sirijaratwong (Chulalongkorn University)
"I think it's wonderful chance to go a new place, meet new people and understand new concepts."
Nguyen Thi Thuy Linh (Hanoi University of Science and Technology)
"The field of this fieldwork (environment, social) may not directly regarding to my future career, but the experience on researching method, teamwork, presentation will be put into very good use not only in the future but also from the present."
Le Hoang Phuong (Hanoi University of Science and Technology)
"There are many lessons that can be implemented into my future career, especially in my first future career choice (public sector)."
Nungky Anandhyta (Institute of Technology Bandung)
"For future participants, work on your Japanese and also English skills because language is a tremendous asset we can use in a teamwork, communicating between ourselves and also for gathering unsaid data such as emotion, expression and so on. Also, I would like them to laid back or relax a bit, take a bit of rest and have fun! This program is not really strict and serious, so it would be nice to have a relaxed person."
Septian Johanka (Institute of Technology Bandung)
"The Minamata fieldwork has taught how government should take position when there is environmental problem occurs caused by industry and impacts to social life. It probably needs technological aspect to handle, control and or prevent the environmental impacts, but to solve the social problem caused by the pollution will take more effort and time."
Eky Yenita Ristanti (Keio University)
"Everyone has own experience or understanding in life which lead to various value in individual. But this is the best part that every people can help others in their own way. My suggestion is use your mind actively and help local people to solve their issues. The next saviour maybe is you. Well, another advice is outline what you want to say before you prepare to present or understand the key point you want to focus before you start the fieldwork. This is because you may have too much information want to say and ignore the core point, and eventually let people get confused."
Pan Saiyi (Keio University)
"I have learned about Minamata by textbook before I visited there, but I learned a lot there as a "Hand-on experience", so I would like to recommend others."
Yu Takeuchi (Keio University)
"I have never been in a fieldtrip which involve a few countries, and this is my very first one, it was  a very great experience and I really love every second I have spent there in Japan. It has taught me a lot,not only about the Minamata disease, the beautiful of Minamata, but it also taught me on  learning other culture and language especially Japan. It was a really nice country and if one have the opportunity to go there, they should. From this fieldtrip you can gain a lot of knowledge and visit places which is very interesting, beautiful and gain a lot of information at the same time. It is a fully sponsored program and I think other country should also do this kind of fieldtrip which gather a few number of Asian countries and work together in a team. I am so grateful that all the team members which include the students and the lecturers are so kind and really helpful."
Norazira Binti Othman (University of Malaya)
"Be kind because Japanese are so kind."
Foo Shu Ping (University of Malaya)
"I am now a Master student, majoring in Environmental Engineering. One of the topics for my future thesis is related to the adsorption of heavy metals from small scale gold mining industry using a local biosorbent in the Philippines."
Alexis Bryan Rivera (University of the Philippines)
"The program not only lets you discover about the things in Minamata, but it also lets you discover a lot of things about yourself and your national identity, which I think is pretty important."
Apollo Agcaoili (University of the Phillippines)
"Actually, I have nothing to say for future participants as I am more than contented on how EBA Fieldwork (Minamata) was conducted.
Maybe, to the Muslim student, they should prepare on halal status of food."
Fenddy Kong (University Sains Malaysia)
"Don't be afraid of uncertainty. Try everything."
Yong Kar Wei (University Sains Malaysia)
To learn more about EBA activities, check our official EBA Facebook Page
https://www.facebook.com/EBAConsortium