The 12th EBA Consortium Open Seminar, hosted by Keio University on October 1st 2014, was a podium for students, who participated in the three EBA summer fieldworks, to present their fieldwork results. The participants includes:
University of the Philippines (UP), the Philippines
Universiti Sains Malaysia (USM), Malaysia
Universiti Malaya (UM), Malaysia
University of Chulalongkorn (CU), Thailand
Bangdung Institute of Technology (ITB), Indonesia
Hanoi University of Science and Technology (HUST), Vietnam
Keio University (KEIO) – from 2 locations: SFC Campus and Hiyoshi Campus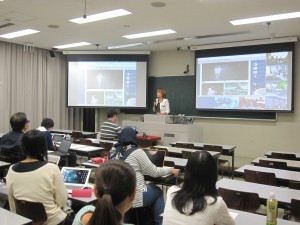 The students from each university, divided into three groups, presented their videos or tumblr based on the evidence they collected from the three fieldworks. The hands-on experience at the fieldwork sites without a doubt enriched not only the imagination of the students but also materials for their presentations. The students expressed hopes for more similar opportunities to deepen their research interests.
At the end of the Seminar, Professor Jun Murai- Dean of Faculty of Environment and Information Studies and also the principal supporter of EBA, awarded the completion Certificates from EBA to three representative students for the three fieldworks. For the rest of students, EBA staff will hand the EBA completion certificates to the students in the soonest time.