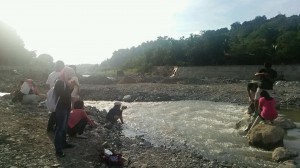 We are now calling for participants in Philippines Fieldwork (University of Philippines Diliman) scheduled in Jun 12-21, 2016
About the Fieldwork
This program is composed of pre and post workshops in UP campus and the fieldwork. Participants will learn basic methods and philosophy of "Evidence Based Approach" at the workshop before the fieldwork. After the workshop, participants will visit Itogon, Benguet, Philippines to expose the issues of the environment particularly on the degradation of surface water quality and challenges in the solid waste management for them to be an integral part of the solution as future leaders.
The overall objectives of this fieldwork is for the students to:
1. Learn the issues in water quality degradation of rivers (surface waters)
nearby mining sites where both small scale and large scale mining are
located
2. Learn the issues in solid waste management
3. Propose possible solutions to these issues and address the challenges in the proposed solutions
Location: University of the Philippines Diliman (Manila),Payatas, Quezon City, Itogon, Benguet
Time: June 12-21, 2016
Language Requirement: English
Target and Capacity: The fieldwork is for both undergraduate and graduate students from EBA partner universities and from Keio University
Selection Process
For Keio students: Both undergraduates and graduate students (who are able to communicate in English) are eligible for the program. All you have to do is:
Fill out APPLICATION FORM (from: http://goo.gl/vmX1TK) in English
Write an 300-word essay stating your interest in the theme of the fieldwork (either in English or Japanese)
Then submit these two materials to eba-submit@ml.keio.jp with subject: "Philippines Fieldwork 2016 Application- Your Name". The deadline is 23:59 JST,  May 15, 2016. Screening result will be announced in the following week. Successful candidates will be partially or fully covered with airfare tickets, depending on the results.
  *Please note that "participation fee" may be applied (to de confirmed)
For ASEAN students, EBA local contacts (see list here)  will have a separate announcement and selection process. Please note that we do not accept application from individual students without the acknowledgement of their school.
Schedule (subject to changes) :
| | |
| --- | --- |
| Date | Activities |
| June 12 | Arrive in Manila |
| June 13-15 | Pre-Fieldwork Workshop at UP |
| June 16-18 | Fieldwork at Payatas, Quezon City |
| June 19-20 | Post Fieldwork Workshop at UP |
| June 21 | Leave Manila |
Contact: For further information about this fieldwork, please contact your local EBA representative (see list here)or email us at
info[at]eba-consortium.asia.