EBA Internship Program aims at matching top performing students with cutting-edge companies for JOB OPPORTUNITY.
About Internship Program

INFO-SESSION
Brief introduction of internship program, overview of company, and internship assignment will be presented by company representatives via videoconference on Nov 5 and Nov 19, 2014.
Nov 5's Presentation: Internship introduction
Nov 19, 2014: Internship opportunity with NEC Corporation, and Weathernews Inc.
How to participate info-session
All students from EBA universities who are interested in the internship program are welcome. Please consult the location at the closest campus.
VIRTUAL INTERNSHIP
A one-month practical learning opportunity that students complete tasks assigned by management level of companies and interact with each other via online communication (videoconference, e-mail).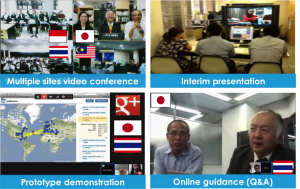 ONSITE INTERNSHIP
A three-weeks hands-on experience in real international work environment.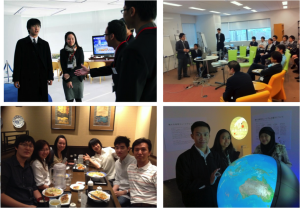 Participating Companies & Tentative Schedule
NTT Data Co., Ltd.
Weathernews Inc. 
NEC Co., Ltd.
KDDI Co., Ltd.
Field of Internship:
Smart community by cloud tech
IT, Engineer, Marketing, Meteorology
Smart Energy Business Development, Marketing
Mobile data application analysis
Company's website
NTT Data
Weathernews
 NEC
 KDDI
Info-session
–
2014/11/19
19:50-20:10
(JST UTC+9)*
2014/11/19
19:20-19:50
(JST UTC+9)*
2014/11/05
19:40-20:10
(JST UTC+9)
Application deadline
Application is closed
2014/11/21
(23:59 JST)
2014/11/21
(23:59 JST)
2014/11/07
(23:59 JST)
Available positions
for onsite internship 
1-4 students
At least 5 students
 1-2 students
 1 student
Virtual internship:
Completed
2014/11/24-12/24
2014/11/24-12/24
2014/11/10-30
Onsite internship in Japan*(3 weeks)
2015/01/11-31
2015/01-02 or 2015/05-07
2015/01-02
or 2015/05-06
2015/01-02
Note:
* =Schedule to be confirmed with companies and selected students
Language used in this internship: ENGLISH 
ELIGIBILITY
Students from partnering universities of  EBA Consortium and SOI Asia Project who are
Undergraduate or Master students who are expecting to graduate in 2015 or before March 2016
(Students, who already graduated, are also welcome)
Interested in full-time job opportunity in Japan after graduation
HOW TO APPLY
Submit the following documents to eba.internship[at]gmail.com
Download form>>application form
Copy of transcript
Resume
Copy of English Proficiency test score (e.g. TOEFL, IELTS, TOEIC or others) (If any)
Recommendation letter from faculty members (If any)
FINANCIAL SUPPORTS [To be determined]
Two-way air ticket and accommodation (up to 3 weeks during official activities) will be provided to successful internship candidates.
Other excluded expenses: 800-1,000 USD (monthly)

Daily meals and local transportation
Travel and Health Insurance (can assist with referal if needed)
Social and entertainment
Visa fee & Visa processing fee